All Are Welcome!
Christ Woodland is a friendly church north of the Wallhaven area on Akron's west side. The congregation's vision is to be "an all-inclusive, loving community of faith whose purpose is to make disciples of Christ through our teaching, our praying, our outreach, and our witness."
---
Now Worshiping In Person and Online

The Rev. Deborah Nees, pastor, leads the congregation in worship, both in person and online, each Sunday starting at 10:30 a.m. If you are able and comfortable doing so, you are welcome to join us in person as the service is shared with those in the pews and on Facebook.
NOTE: This Sunday, July 17, the Christ Woodland congregation will gather for worship in person and outdoors on the church grounds at 10:30 a.m. For your comfort, please bring a folding lawn chair, if possible. There wil be no livestream broadcast of the service. Live broadcasts via Facebook will resume the following week.
Following the worship service, join us for an outdoor potluck picnic. Please plan to bring a side to share and your own table service. Ham and assorted beverages will be provided. As always, all are welcome!
The Christ Woodland Facilities Re-Opening Task Force has reviewed health safety protocols in place at the church and made the following recommendations. For individuals attending church activities in person, improvement in local COVID-19 infection rates means the wearing of masks is now voluntary for those fully vaccinated. Please keep in mind, however, that some in attendance still may benefit from the protection offered by masking, and we support their decision to do so. The congregation is asked to continue precautions such as safe distancing and hand sanitizing.
If you join us for worship online, we invite you to do so a little early (around 10:15 a.m.) to hear announcements and share prayer requests. Be sure to "sign in" and greet others when they arrive on the site. We look forward to seeing you online, if not in person!
We celebrate Holy Communion the first Sunday of each month. In church, the elements are prepackaged and sealed. If you are participating at home, please remember to assemble the elements, perhaps a piece of bread or cracker and some juice, ahead of time so you can celebrate Holy Communion with us during the worship service.
Please remember that tithes, offerings and donations from members and friends of the congregation help support the work of this faith community and can be may be dropped off as the congregation enters or leaves the sanctuary, sent to the church in check form, through our Facebook page (click or tap the "Shop Now" button) or by using the following link. As we worship and work in faith together, please consider and reflect on all God has given and what might be given in return.
Christ Woodland United Methodist Online Donation Form
---
UMCOR Special Advance Giving for Ukraine
Members and friends of the congregation who would like to provide direct assistance to those in Ukraine as well as assistance to Ukrainians fleeing to neighboring countries may do so through the United Methodist Committee on Relief (UMCOR). Visit our Ministries page for more information.
---
Check Out Our Online Worship Services and More on Facebook
Stay in touch through our Facebook page! You can post messages to your church family, read others' posts and keep up with the latest official church news and announcements.
You can find Christ Woodland United Methodist Church on Facebook at:
https://www.facebook.com/Christ-Woodland-United-Methodist-Church-107307607570329/
---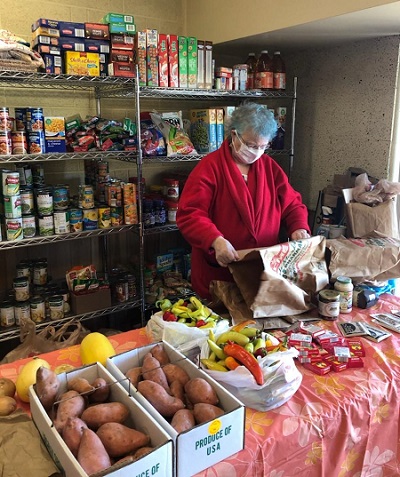 A volunteer helps prepare our Food Pantry for clients.
Food Pantry Serves Our Neighbors
The Christ Woodland Food Pantry is open every Wednesday from 10 a.m. to 12 noon.
Each week our Food Pantry assists dozens of local people. And we have seen the need grow significantly during the pandemic and the economic hardships that are accompanying it. While the Food Pantry originally was open every other week, early in 2020 we moved to a weekly schedule to better serve our community.
As always, if you'd like to donate food, toiletries or other supplies to the pantry, please plan to drop them off at the church whenever the church office is open (see the church calendar). Please contact the church office to see what items are needed. If you would prefer to have the committee members do the shopping, you can donate money to support the Food Pantry using our online donation form. Please be sure all donations are marked "for the food pantry." A big thank you to all who continue to support this important outreach ministry.
---
Book of Genesis Bible Study
Beginning July 14, the Bible Study group which meets on Thursdays at 2 p.m. will be taking a summer break and will resume discussions in September.
---
Online Giving of Tithes and Offerings
Through the following link you can make a one-time offering or set up recurring donations as frequently and for as long you choose. Or you can download and use an app called GivePlus Church on your smartphone or tablet. Or if you prefer, tithes and offerings can be sent to the church via check. The Finance Committee is thankful for those who have continued supporting our good works while in-person church activities have been suspended. Please contact the church office if you have any questions or need more information.
Christ Woodland United Methodist Online Donation Form
Note: You can also donate online through our Facebook pages. Click the blue Shop Now button near the top of the home page.
---
Office Hours
The church office will maintain regular hours, normally Tuesday, Thursday, and Friday from 9 a.m. - 1 p.m. You can call the office at 330-836-9777 during those hours. See this week's church calendar to confirm which days the office is open.
---
Please contact the following organizations for scheduling updates or call the church office at 330-836-9777, Tuesday, Thursday or Friday, 9 AM to 1 PM.
Alcoholics Anonymous (AA)
Saturday evenings at 7:00 PM
Wednesday evenings at 6:30 PM
Upcoming Events:
All Are Welcome!
Click here for a map to:
444 N. Hawkins Avenue
Akron, OH 44313